Greece in the age of heroes. Patroclus, an awkward young prince, has been exiled to the court of King Peleus and his perfect son Achilles. By all rights their paths should never cross, but Achilles takes the shamed prince as his friend, and as they grow into young men skilled in the arts of war and medicine their bond blossoms into something deeper – despite the displeasure of Achilles' mother Thetis, a cruel sea goddess. But then word comes that Helen of Sparta has been kidnapped. Torn between love and fear for his friend, Patroclus journeys with Achilles to Troy, little knowing that the years that follow will test everything they hold dear.
Profoundly moving and breathtakingly original, this rendering of the epic Trojan War is a dazzling feat of the imagination, a devastating love story, and an almighty battle between gods and kings, peace and glory, immortal fame and the human heart.
---
Book Review:
Pure. Raw. Natural. This book made me hate the Greek Gods on the first page where status, pride, and richness is the only thing that matters in life. I hate to see Patroclus being disowned by his father. I never thought that I would see a character that I despise so much that my empathy towards Patroclus is at a different level. I find this book mesmerizing. This is not like those books where two characters fall in love immediately.
This is two characters finding their sexuality, their identity, and what lies in their heart.
I find Song of Achilles…painful. Slow and painful. The pain is building up. As if your heart is cautious towards the pain that we couldn't prevent but then we didn't know that such pain could exist after reading the novel.
It was a mixture of distaste, happiness, and acceptance. What I enjoy the most reading this book is seeing an introverted character who is being accepted by a more known character without judgment. Achilles is a kind and fragile character but I was able to see his growth from being someone so pure to entirely different character. Miller was able to capture how time can change a person when the pride of Gods was in question. I was merely captivated by the beauty of how the author crafted the book. As for Patroclus, we were able to see how weak he was from the beginning and how he was able to stand up and build his name in the middle of a war.
Personally, I like Achilles' character where he doesn't judge a person, and what I like best for Patroclus is when he tries to save someone's life whether this person is an enemy or an ally. The two of them are such a beautiful combination of chaos. One who kills, and the other one who heals. Two different motivations. Two different perspectives. But these two characters fell in love with each other.
I've been prolonging to review this book. I need a huge amount of time to settle my emotions and feelings but upon typing, I find myself emotionally attached to the story after a month of delaying this review. I mourn for Achilles' pain. I grieve for Patroclus' past. I cry for both of them. And I cry for everyone in the story. This book…is too much. Madeline Miller is too much. She writes so smoothly that you want to lose yourself in the book. Empathy arises, and you know where Achilles and Patroclus are coming from.
I was told that reading Song of Achilles is more painful than Circe. But I think, these two books offer different kinds of pain and validation which makes them unique. It is a matter of preference which book you ended up liking the best. For me, they both gave me something to cherish and something to bring with me after reading their journey.
Song of Achilles by Madeline Miller is that one book that you wanted to keep on losing yourself with its poetic writing style that dwells with two characters' journey from love to hope, from innocence to devastation, from morality to pride, and from hate to acceptance. Such unexpected ending.
MY RATINGS: 5 STARS!
Amazon | Barnes & Noble | Google Play | Book Depository | Libro.FM
ABOUT THE AUTHOR
---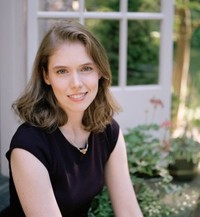 Madeline Miller was born in Boston and grew up in New York City and Philadelphia. She attended Brown University, where she earned her BA and MA in Classics. For the last ten years she has been teaching and tutoring Latin, Greek and Shakespeare to high school students. She has also studied at the University of Chicago's Committee on Social Thought, and in the Dramaturgy department at Yale School of Drama, where she focused on the adaptation of classical texts to modern forms. She currently lives in Cambridge, MA, where she teaches and writes. The Song of Achilles is her first novel.